Buy Cacao Bliss Today Because Cacao Bliss Is…
100% USDA certified organic…
Vegan, vegetarian, paleo, keto friendly!
Free of unhealthy sugars like other chocolate products…
Using only the highest quality processing methods…
100% guilt-free!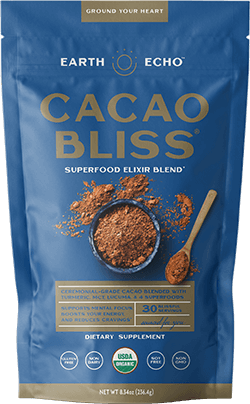 Produced in a non-GMO facility…
Tastes deliciously decadent (dessert-like!)…
A pure superfood, with no artificial flavors or sweeteners…
Soy, dairy, and gluten-free…
No wonder I think this chocolate is the motherlode of all superfoods!
As you can see, I've combined the healthiest, most delicious raw cacao I could find, along with other health-boosting superfoods to create an irresistible chocolate formula you can use as your "guilty pleasure" every day.